Grace Roberts
Grace Roberts graduated from Limerick College of Art and Design in 2006 with a B.A. in Graphic Design and completed an M.A. in Media and Communications in 2008. Her most recent exhibition was a group show, Truth or Dare in Siamsa Tíre, Tralee in May 2018.
'My work is a combination of my interest in the power of visual representation and religious belief systems, as well as a fascination with signs and symbols, myths and illusion. I work mainly in oils but have been using beeswax to ?nish my pieces recently. I enjoy working with this organic medium and love how it obscures and reveals and adds an extra layer of meaning.'
Hunt Museum
The Gathering
Mixed media Finished in beeswax
20 x 20 cm
The inspiration for my artwork is the Hunt family itself. The family is featured throughout the museum and reminds me of my own upbringing. My mother, Sarah Roberts, was an avid collector and had a shop on Mallow Street, The Treasure Chest. Our house was always full to over?owing with collections of antiques - toby jugs being a favourite - as well as oil lamps, paintings, willow-pattern plates, clocks, Staffordshire greyhounds, green glass and more. I feel a certain af?nity with the family involved in this amazing collection.
Limerick Museum
Patterns
Mixed media Finished in beeswax
20 x 20 cm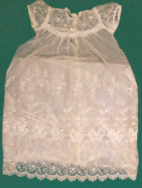 I have chosen a child's dress of Limerick lace from Limerick Museum (LM1992.0053) as the inspiration for my work. I love the delicacy of the fabric and the rhythmic patterns. This dress was a cherished item of clothing, worn on special occasions only. It was handed down through the family, accumulating history and patina: like stories passing from generation to generation, morphing with the texture and colour of the storytellers over time. The hand-stitched patterns in this lace heirloom inspired the use of botanical motifs, reinterpreting one of the oldest stories ever told..