Tom Climent
Tom Climent produces paintings of figurative, urban and landscape subjects. His most recent work tends to focus on the creation of a structured space, while investigating the boundaries between abstraction and representation. These investigations are performed using paint. As traces of memories and feelings accumulate and overlap on the canvas, construction and deconstruction become active tools in the creation of his paintings.
He has exhibited widely, most recently at Solomon Fine Art in May 2018 with a solo show, Aspect and at the Sternview Gallery, Cork with an exhibition entitled, Voyager. His work has been selected for the annual exhibitions at the RHA and RUA and has been shown internationally in Beijing, Shanghai, London and New York.
Hunt Museum
Joachim and Anne
Oil on canvas board
30 x 21 cm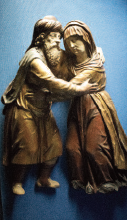 The figure sculpture of Saints Joachim and Anne from the Hunt collection (HCM 009) inspired the present work. The reason I chose this piece as a basis for my response to the idea of family was the embrace between Joachim and Anne. This gesture of support, compassion, love and holding between people expresses what it means to belong to a family.