Tom Fitzgerald
Limerick-born Tom Fitzgerald studied at Limerick School of Art and Design, where he later served as head of the sculpture department. He was a founder member of Limerick's annual EV+a exhibition in 1977. He has participated in group shows in France, Germany, Italy, Austria, Hungary, New York and South Korea and is the recipient of multiple bursaries and awards over his long career. In 2005 he was included in a representative show, Contemporary Art from Ireland at the headquarters of the European Central Bank, Frankfurt.
Hunt Museum
Spirit Vessel
Wood and Carrara marble
9 x 28 x 16 cm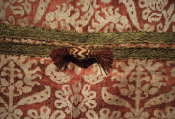 I selected two items, a Roman wine strainer (HCA 678), for its form and a cope (NGI 12034) for its decorative ?ower pattern. I liked the challenge offered by two very different objects. I then turned a wood form echoing the wine strainer and carved the ?ower pattern on a piece of Carrara marble. When I put the two elements together I found that something was still missing, so I carved two tiny hands in wood to issue from under the marble.
Limerick Museum
Family Fragments
Slate
26 x 13.5 x 5 cm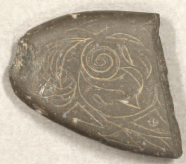 My selected object is a Viking stone fragment with incised decoration, c. 850 - 1000 CE (LM 1998.0004). The object still resonates across a thousand years and the idea of a 'fragment' interests me. This idea, when connected with the family theme of the exhibition, provided a starting point. I decided to carve a Mother and Child on a slate fragment. As the work progressed, and, in pursuance of the 'fragment' notion, I included a partial repetition of the main ?gures. I called the work, Family Fragments in sympathy with the many single parent families that now exist in society.