Vivienne Bogan
A native of Limerick City, now living and working in Feakle, Co. Clare, Vivienne Bogan is a graduate of Limerick School of Art and Design. Working with mixed media and print on paper and canvas, Bogan has been painting and exhibiting for many years in group and solo shows. In her painting she eschews traditional methods, preferring to work with found materials and immediate implements.
'I see what I do as a personal journey of self-exploration and discovery: the vehicle that assists me to glean a deeper insight and understanding of myself, as a spiritual and physical being and of the world and my place in it.'
Hunt Museum
Ruber Mater
Oil pastel and pencil on paper
30 x 22 cm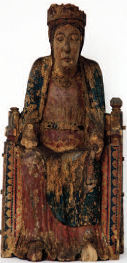 Ruber Mater is a response to Sedes Sapientiae in the collections of the Hunt Museum (HCM 001).
Theotokos, the God bearer is an early title bestowed on Mary, the vessel who carried the Holy Child. She is later venerated as Sedes Sapientiae or Throne of Wisdom. She is the seat enthroning Jesus, Wisdom's Word. Through her person many ancient female titles of honour are mirrored or carried foward, Asherah, Gaia, Earth Mother or Goddess, Queen of Heaven etc. Red mountain as Matter (from the Latin Mater or Mother) carries, enfolds and supports the trials and burdens of motherhood, represented by Picasso's Weeping Woman thus mirroring the pietà of Christ. Gaia guards from above.
Limerick Museum
The Hannigan Sisters c. 1903
Photo montage on cotton with Limerick lace and thread
21 x 29 cm
In a response to Limerick Museum's collection of Limerick lace, The Hannigan Sisters c. 1903 is a tribute to my highly creative and inspirational grandmother Ethel, who lived for most of her very active life in Croom, Co. Limerick.